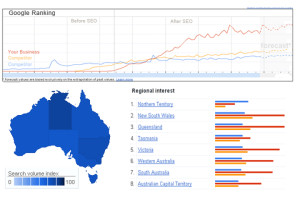 There's a good chance you are reading this page because you did a search in Google and you clicked on a link to this web site. In Australia Google has over 90% market share of the "search" market. And with Telstra's Yellow Pages having recently signed a deal with Google to delivery Google Maps in their listings, that share will probably increase.The truth is if you are not on the first page of Google for the terms people actually search on, you are nowhere.
Did you know that being at the top of the first page in Google can increase your visitor numbers by a factor of 14 compared to being on the top of the second page?
Unfortunately a lot of businesses blow their budget on a fantastic-looking web site with all the bells and whistles … that nobody can find. Not having good rankings is like having a brochure that is left in the cupboard or a direct mail letter that is never posted, or a radio commercial that is never aired. When it comes to internet marketing, it makes more sense to spend 10% of your budget on the web site and 90% on web site promotion and search engine optimisation. Not many web designers will tell you that but it makes sense if you think about it. Think about the way you make purchase decisions online.
Tell me, what would you rather have, a clean and functional web site that ranks at the top of the search engines and gets more than its fair share of visitors, or a work of art with all the bells and whistles that nobody can find?
These days it is very difficult to get good Google results unless you employ the latest methods of search engine optimisation. To help you get found on the Internet, I will use proven techniques to get your web site indexed and ranking quickly. This service is included in the enhanced package . We do the on-page search engine optimisation and we outsource the off-page optimisation and link building to a service called Blog Shot . It works very well. The techniques we use include:
Key phrase selection
Meta tag generation
Link building
Web 2.0 marketing
Propriety techniques developed over years of experimentation that my competitors are yet to discover
For more information, please call or email. The fact that you're reading this proves that it works.